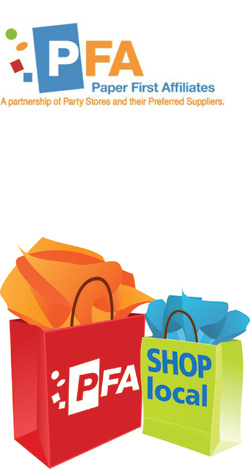 Frequently Asked Questions
What's the best reason to join Paper First Affiliates?
For the DISCOUNTS & REBATES! As a member of PFA, you will have the clout of a big chain store, entitling you to significant savings on all kinds of goods and services across the board. But PFA is much more than a buying club. We're a member-owned organization, so unlike other party store affiliate groups, we return any additional volume discounts to our members. And because we are happy to share our significant experience and expertise in the party industry, you can get the help you need, when you need it most!
Once I've joined PFA, are there any restrictions on the way I do business?
We know that party store owners are an independent lot. PFA puts no restrictions on its members. Our whole job is to save you money, to help your business grown and to make your job a whole lot easier. How you use the discounts, programs, advertising and networking programs is up to you.
How does PFA differ from other party store buying groups?
Unlike other party store buying groups, PFA is a member-owned organization. While it's not set up as a "non-profit" organization in the strict sense, the profits and rebates we do earn after expenses are returned to our Owner Members. We do offer other levels of membership to ensure that all independent party store retailers have a chance at success. We believe our structure allows us to stay focused
What's the quickest way to join and start taking advantage of the discounts today?
Call Don Morgan, our Director of Member Services at 1.877.472.7371 or email him at don@pfaconnect.com.
Paper First Affiliates

•

P.O. Box 341 Accord, MA 02018

• 1.877.472.7371

Copyright Paper First Affiliates, LLC